The group of people working on this website since sept - 2016, consists of: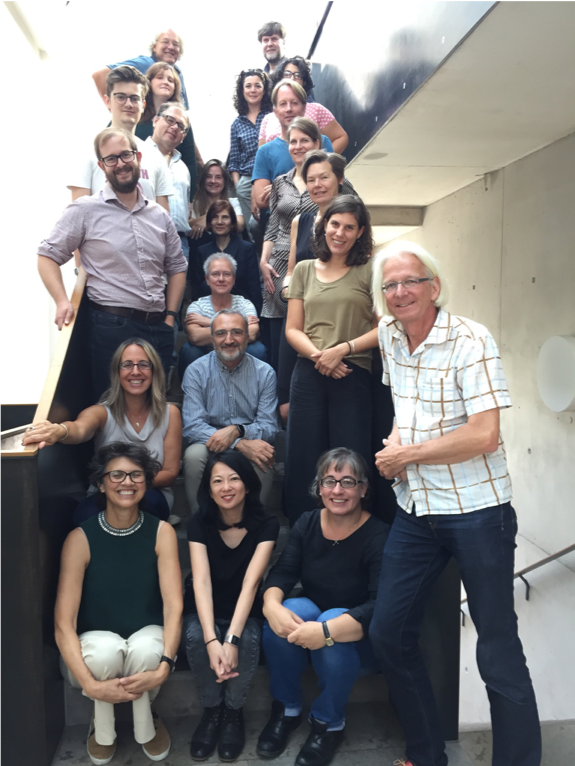 Arjan van Hessen

Arjan van Hessen received a master in Geophysics, a PhD in Phonetics and is working in the field of Human Language Technology since '91. His main interest is in applying the various HLT techniques in both the academic/research and the real world. Through his work as director-user-involvement at CLARIAH and as Head of Imaganation at Telecats, he is in the middle of the world of public-private collaboration.
Stefania Scagliola

Dr. Stef Scagliola is a historian specialised in digital audiovisual archives, with an emphasis on oral history collections. She has worked as a post doc at the Centre for Contemporary and Digital History at the University of Luxembourg, and at the Erasmus School of History, Culture and Communication at the Erasmus University in Rotterdam. She has published on this topic, and was involved in the creation of various digital oral history collections: Interview Collectie Nederlandse Veteranen, Croatian Memories, Bosnian Memories, Warlovechild.
Christoph Draxler

Christoph Draxler, Bavarian Archive for Speech Signals (BAS), Ludwig-Maximilians-Universität Munich, is the head of the corpus and tools group. Christoph studied computer science at TU Munich and Romance literature and linguistics at LMU Munich. In his PhD dissertation he developed database predicates in Prolog to access relational databases. At the BAS, he was responsible for the collection of several large-scale speech databases, e.g. SpeechDat II and SpeechDat-Car (German), Ph@ttSessionz, VOYS, and he has developed a number of speech tools, e.g. SpeechRecorder, WebTranscribe, and the online perception experiment tool percy. His research interests are crowdsourcing for speech processing and regional variations of spoken language.
Norah Karrouche

Norah Karrouche is an assistant Professor in History at the Erasmus University and Vrije Universiteit. She specializes in historical culture and memory in Morocco, Algeria and among North African communities in Europe, with emphasis on the history and representation of Berber culture, literature and arts. Norah currently participates in CLARIAH-PLUS and is responsible for the integration of oral history collections in the Media Suite. Previous and ongoing research into the integration of community oral history and data reuse in large scale research infrastructures has been funded by CLARIAH-CORE and NWO.
Henk van den Heuvel

Henk van den Heuvel is an expert on production and curation of language and speech databases, transcription of speech (orthographical and phonetic); data science for speech technology; and automatic speech recognition. He is director of the Centre for Language and Speech Technology (CLST) and Head of the Humanities Lab at the Faculty of Arts. He is also Research Data Manager (data steward) for the Faculty of Arts.
Silvia Calamai

Silvia Calamai is associate professor in Linguistics and Sociolinguistics at the University of Siena. She is member of the CLARIN Legal Issues Committee and the CLARIN-IT group. At present, she is coordinating two projects on oral archives ("Archivio Vivo", Regione Toscana 2019-2021; LISTEN Landscape in Sounds through Eco-Museums network, Ecomuseo del Casentino, 2020-22); and the scientific committee of the Historical Archive of the Arezzo psychiatric hospital (2017-). She is on the board of Italian Association of Speech Sciences and of Sonorités Bulletin de l'AFAS Association française des détenteurs de documents audiovisuels et sonores. Her main research interests are sociophonetics, oral archives and dialectology.
Jeannine Beeken

Jeannine is a linguist who currently works as Senior Metadata and Ontologies officer at the UK Data Service at the University of Essex where she serves as the key liaison between discovery and technical staff, communicating requirements, evolving rules and ensuring implementation of metadata and resource discovery systems, including ontologies, (controlled) vocabularies, text mining tools focusing on NLP tools and algorithms.
Max Broekhuizen

Max Broekhuizen is a master student History at the Leiden University, currently completing the History Master of Cities, Migration and Global Interdependence. In research, Max is interested in collecting and researching migrant (hi)stories, mostly through oral history interviews. Max currently works as a student assistant at the Erasmus School of History, Culture and Communication and is involved in both the Speech and Technology work group and the CLARIAH Media Suite. Additionally, he works at the Rotterdam City Archive for the department of Archives and Collections.